Creation 2014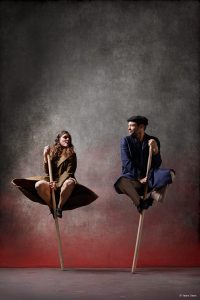 There are two of them, in the throes of bold acrobatics, at the crossroads between Chinese pole, high wire and acro-dance.
It is a show that will take you into a suspended universe filled with a percussive atmosphere and brimming with emotion and joviality like a contemporary, illusive carnival; a daring cadence that moves between force and fragility.
They will evolve in this iron labyrinth, balancing, teetering, flying through the air eating away at each present moment. Along a truly initiatory path, they will expose themselves to the unknown forces that reside inside themselves.
In this quest for identity, they will face up to their own convictions, their own  differences. An unfathomable mystery is the relationships with others!
TiraVol is also the recounting of a journey, an encounter. It's a dialog between two cultures, the north and the south faces of the same mountain. It's an ode to diversity, a call to celebrate. It's a tale between illusions and realities, a show where the body and being are the main roles"
Agnès et David
Cast and Crew:
By and with: Agnès Fustagueras I Puig and David Soubies
Outside Observer: Bet Garrell and Marcel Escolano, Los Galindos Compagny
Musical Creation: David Soubies
Sound/Light: Jérémie Guerin
Tuba: Yohan Scheidt
Light Design: "PP" Patrick Ponchant
Costume Design: Aurèlie Jacob
Production/Distribution: Eugénie Vilaseca
Administration: Emeline Févotte
Apparatus Builder: Romain Giard
Graphics and Photography: Yahnn Owen
View photos TiraVol Indoors
Crédits photos Yahnn Owen