Creation 2017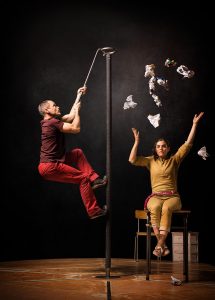 "He falls, and falls again, constantly. His fragmented, disordered body tries to regain its lost state of balance. She watches, counts and classifies; she circles and challenges his certitudes as he turns on his pole.
A ceaseless turbulence, only coming to a halt when they fall deeper still.
These fragile bodies, feverishly trying to master their anomalies, transport us to a lop-sided and physically comic universe, where even acrobatics becomes absurd.
An experience from which they will never wholly recover.
Wooden Bodies is about a particular kind of prowess: about the tenacity of those who, after falling, get up again; about the capacity to accept and live with a body outside the norm."
David Soubies and Agnès Fustagueras
Credits :
Written and performed by: Agnès Fustagueras and David Soubies
Direction : Nicolas Ramond, Agnes Fustagueras i Puig, David Soubies
Original music : David Soubies
Costume design : Aurélie Jacob
Set design and construction : Quentin Paulhiac
Tiered seating construction : Stéphane Guillemin
Production: Daraomaï Company
Co-productions and residencies: La Cascade, Pôle National Cirque Auvergne - Rhône-Alpes (07) / La Grainerie, Fabrique des arts du cirque et de l'itinérance (31) / La Central del Circ, Barcelona (Es) / Le Chai, Espace Culturel Carcassonne Agglo (11)
This project has received financial support from the Fonds de Création du projet de coopération transfrontalière De Mar a Mar, within the framework of POCTEFA. With additional support from La Grainerie and the Central del Circ. 
A project emerging from the portable circus project, commissioned by La Verrerie d'Alès, Pôle National Cirque Occitanie*
Supported by:  Conseil Départemental de l'Aude, Région Occitanie, Réseau En Scène Languedoc-Roussillon, La Verrerie d'Alès PNC Occitanie. 
*The Cirque portative (portable circus) is a circus project conceived for spaces not designed for performance, and run by la Verrerie d'Alès PNC Occitanie, It is made for the network of libraries and mediatheques of which the Aude department is a long-standing partner
View Wooden Bodies Photos
Photo credits : Yahnn Owen